Tiberius (42 BC - 37 AD)
Emperor: 14 - 37 AD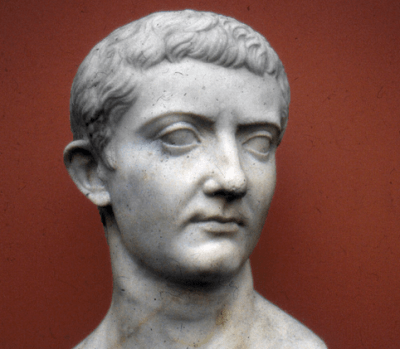 Upon the death of Augustus, Tiberius Claudius Nero stood as the last logical choice in a long and tumultuous line of potential heirs. In 14 AD, at the age of 56, Tiberius ascended to Imperial power as a somewhat uncertain figure. The continuation and success of the newly created Principate rested squarely on the shoulders of a man who seemingly had only a partial interest in his own personal participation.
For the first time the transfer of power from the greatness of Augustus was to be tested. The passing of this test would prove to be more a culmination of Augustus' long reign and establishment of precedent than the ability of Tiberius to fill the enormous sandals of his step-father.
While Augustus was the perfect political tactician with powerful personality yet approachable demeanor, Tiberius was a direct contrast. He was a dark figure, keenly intelligent, sometimes terribly cunning and ruthless, yet pre-disposed to a more Republican ideal than any emperor that followed him. Tiberius' failures, however seem to have been his inability to define his own role within the Principate and the roles of those around him, including the Senate. While he professed a desire for the Senate to play a more active role in Imperial government, he did little to illustrate what these roles should be. To an aristocratic body that had been cowed into general subservience through the sheer will and force of Augustus, defining a new role required more definitive action than the simple desire of Tiberius for change.
He was inconsistent in policy and behavior, sometimes dictating his own idea of order from the position of ultimate power, sometimes withdrawing completely in favor of any who might dictate the appearance of command. Mood swings and depression plagued him, perhaps resulting from a life spent as an uncertain member of the 'Julio-Claudian' family. Until his final ascension, and only after the deaths of several favored 'heirs', did Tiberius probably know for sure that the ultimate power would actually belong to him. His own withdrawal from public life in the midst of Augustus' search for permanent familial hierarchy (12 BC - 2 AD), certainly indicates a detachment from desire for ultimate power. His second withdrawal from public life, later in his actual reign, would prove to be the ultimate undoing of his own legacy. His susceptibility to the scheming of those around him, while possibly hoping for someone to emerge to allow his own escape, made Tiberius, and Rome itself, vulnerable to tyranny and uncertainty.
From the very beginning of his reign, Tiberius was shrouded with uncertainty. When the Senate convened to confirm him, the procedure was completely unknown. Augustus had assumed power over a period of years through a systematic assembling of various Republican powers, while Tiberius was to be handed the entire thing, all at once, on a platter. Like Augustus' before him, he seemingly made an attempt to refuse the ultimate power of the state, instead preferring a more limited role. But his desires were apparently unclear, and the Senate too was certainly unsure of what action to take. After some consternation, Tiberius eventually accepted the highest order of power. Still, Tiberius left evidence of his own desire to be rid of the mantle of authority, being the only emperor to refuse the title 'Pater Patriae' (father of the country).
Tiberius' behavior in governing matters, especially in interaction with the Senate was confusing at best. Despite efforts to get them to return to at least a semblance of Republican rule, his view of them, 'men fit to be slaves' coupled with his own liberal use of the treason laws, certainly left the Senate frightened and confused. This relationship would never improve, and in fact would worsen, thanks to the rise of men like Sejanus. Tiberius' would be blasted by later Roman historians, all of whom would have ties to the Senatorial elite, and therefore, despite a generally solid rule (especially in terms of provincial administration), his legacy was permanently stained. However, Tiberius was faced with more trouble than that caused by political uncertainty between him and the Senate.
Germanicus and the Revolt of the Legions
Almost immediately upon the death of Augustus, and his subsequent deification into the Roman Imperial cult, the legions in Pannonia and Germania began to revolt. The legions that guarded the Rhine and Danube rivers, by the far the largest concentration of military might in the western world, were unhappy with the terms and conditions of their service. In direct relation to the transfer of imperial power, the loyalty of the legions, who swore an oath directly to Augustus not the state or 'office' of Emperor, was severely tested.
In Pannonia, the revolt was really a continuation of the disorder that Tiberius has put down while Augustus was still emperor. When the men demanded more pay, fewer years' service, and other 'retirement benefits', Tiberius' son Drusus wisely managed to delay the mutiny. Convincing them that he didn't have the authority to deal with such matters, an embassy was sent to Rome on their behalf, which quelled open mutiny in the interim. A lunar eclipse (a sign of disfavor from the gods) and terrible stormy weather helped further dampen the troop's zeal. Drusus followed up with extreme authority, hunting down the ring leaders and putting an end to a volatile and potentially very dangerous situation.
In lower Germania, where Tiberius' adoptive son and heir Germanicus was in place, the legions revolted for similar reasons but were also affected by Germanicus' very presence. Extremely popular with the men, perhaps for his direct familial relationship with Augustus, or just because of a lack of affinity with their former commander, Tiberius, some mutineers even suggested that Germanicus replace Tiberius as emperor. Germanicus was in a very delicate situation, trapped between Tiberius and an army disloyal to the empire, but pledging loyalty directly to him. Given the circumstances, it's not surprising that the situation was poorly handled. Germanicus even offered to commit suicide rather than be disloyal to Rome, an offer which was seemingly accepted by the men. It proved his loyalty to Tiberius, but the tactic failed to produce order, and he next forged documents indicating that Tiberius had accepted all their demands. This ultimately backfired, as the truth came out, and did little to help, but actually hindered another potentially disastrous situation. Finally, order came simply by discrediting the soldier's sense of honor and dignity. Germanicus ordered his wife, Agrippina (direct granddaughter of Augustus) and their son Gaius, or Caligula (little boots), who was so named by the troops in love and deference to the miniature legionary costume he wore, to leave the camp fearing for the safety. The men responded with seemingly true remorse and begged for the return of Agrippina and their little mascot. Germanicus refused until they took it upon themselves to restore order. With that ultimatum, a veritable purging of the mutiny leaders occurred and the Germanic legions pledged loyalty to Tiberius.
Germanicus wasn't a fool, however, and was well aware that idleness may have been the true cause of discontent. For the next several years (14 - 16 AD), he led a number of punitive campaigns against the Germanic tribes across the Rhine. While these did eventually restore at least one lost standard from the Varus disaster of 9 AD, the campaigns were actually far more dangerous to Roman security than those that had occurred before. Sticking to Augustus' policy of border maintenance rather than expansion, Tiberius all but ordered Germanicus return to Rome in the guise of a triumph, celebrated in 17 AD. This was significant in that it not only marked the end of open aggression against the Germanics until the reign of Marcus Aurelius some 150 years later, but it was also the last non emperor general to celebrate a triumph in Roman history.
Having celebrated that triumph, Germanicus now in his early 30's, was clearly defined as Tiberius heir per Augustus's wishes even above Tiberius's own natural son Drusus. In 18 AD, he was sent east with 'Imperium Maius' in much the same manner that Agrippa had been under Augustus. Essentially Germanicus was acting as a second imperial authority in the east. However, difficulty with Cn. Calpurnius Piso, governor of Syria began to unravel the stability of the still young principate. Germanicus fell ill and died just a year later, 19 AD, accusing Piso of poisoning him in the process. Piso was eventually brought to Rome and put on trial for treason, one of the earliest of many such trials during Tiberius' reign, committing suicide when it appeared that he held no hope. Tacitus, writing a remarkable account in his 'Annals' claimed that Tiberius may have had a hand in the affair, citing jealousy and fear over Germanicus' popularity with the people and the legions.
Whatever the truth, Germanicus was dead and Tiberius elevated his natural son, Drusus to the role of heir. However, a split occurred between Germanicus' remaining family, the one branch that held direct connection to Augustus, and this would strain imperial politics for the remainder of Tiberius' rule. This split would also allow the rise of a man who would take this strain to new heights, not just within the imperial family but between all facets of Roman society. This man, L. Aelius Sejanus, the Praetorian Prefect and soon to be emperor in all but official title, would be the first to make the imperial body guard a political force of their own, and pave the way for Praetorian influence for centuries to come.
Sejanus
Lucius Aelius Sejanus was the son of Tiberius' first Praetorian Prefect, Strabo. An equestrian by birth, he had connection to the Imperial family almost his entire life, through the service of his father. In 16 AD Strabo was appointed the governorship of Egypt (the highest political position for an Equestrian of the time), and Sejanus moved fluidly into the command of the Praetorian Guard. Likely around 20 years old, (the exact date of his birth is unknown) he was quickly becoming one of Tiberius' closest confidants and trusted advisors. This relationship would immediately put him at odds with other members of the Imperial family, including the emperor's son, Drusus.
Within a couple of years of his sole appointment as Praetorian Prefect, Sejanus solidified his position, and his command, by concentration the previously scattered Guard all within easy reach Rome. The 9,000 men of the Praetorian cohorts were no longer a force charged with keeping the peace around the Italian towns, but were truly the emperor's personal guard. By virtue of the size of this command, the Prefect undoubtedly became a very pronounced figure in the Roman system of government and daily affairs. Tiberius himself dubbed Sejanus as his "partner of my labors", and while this may have been initially true, Sejanus wouldn't take long to advance his own agenda.
Probably very early on, Sejanus developed a rivalry with Tiberius' son Drusus. When Germanicus, heir to Tiberius, died in 19 AD, this rivalry would take a noticeable turn for the worse. Sejanus was likely beginning to view himself as a potential heir, and Drusus was the one man who stood in his way. Over the next few years, Sejanus impressed Tiberius through his many administrative abilities and the young Prefect continued to be endowed with more power. By 23 AD, Drusus died after a short but violent illness and the way was opened for Sejanus to take an even more prominent role. Later accusations of poisoning would develop due to treason trials resulting in and from Sejanus fall. Sejanus and Drusus wife Livilla were accused of adultery and conspiracy in Drusus death. However, the truth of the matter is completely unknown, and the entire incident is deeply debated by modern scholars.
After the death of Drusus, Agrippina the Elder, wife of Germanicus and granddaughter of Augustus, had already been, but became an even more important political player. Through various political schemes, for Agrippina this included advancing her sons Nero, Drusus and eventually Gaius (Caligula) into positions as Tiberius' heir. At the same time, Sejanus' took more and more of a prominent role in Roman politics. A dangerous enmity developed that would threaten the very life of the Julio-Claudian line. However, at 64 years old, and perhaps always yearning for a life of solitude away from Rome (as evidenced by his withdrawal from public life at the turn of the millennium), Tiberius simply wanted someone to take over for him and act as regent. Agrippina's sons were still too young (ranging in the teens) and Sejanus presented the best chance for Tiberius' 'escape'. According to Tacitus, Tiberius even longed for a return to Republican rule, but this was simply unattainable. Instead, Tiberius retired from public life again and withdrew to the completely isolated island of Capri in 26 AD. Sejanus was left in charge as regent, and he would soon use that new power to advance his own personal agenda and nearly completely destroy the Julio-Claudian line.
After Tiberius' withdrawal, in which he would never return to Rome, Sejanus systematically took control of the government. The family of Agrippina was relentlessly attacked, mainly through her friends and supporters in treason courts. However, she and her sons fell victim as well. Agrippina and her oldest son Nero were arrested perhaps as early as AD 27. In 29 AD they were exiled to the Pontian islands off the coast of Naples and the masses who had always favored Germanicus, protested in the streets. Agrippina's second son, Drusus, was arrested in 30 AD but not exiled. Nero was forced into suicide in 31 AD and within two more years both Agrippina and Drusus had died of starvation. Meanwhile, any in the Senate who mounted opposition to Sejanus in any form, found themselves in terrible danger of the treason courts. Sejanus also controlled access to Tiberius, whose position on Capri made him virtually inaccessible. The Senate had little choice but to cow to the man who controlled 9,000 Praetorians within the very walls of Rome. However, Gaius (Caligula) the eventual heir remained safely in Tiberius' direct care (and protection) on Capri.
Sejanus controlled all matters of Roman administration during this period. From military matters to political appointments he truly wielded the ultimate power. Sejanus' ultimate goal, whether he sought preservation through being the trusted member of the Imperial staff, or truly intended to claim ultimate power for himself, is unfortunately unknown. This issue too has been widely debated both among ancient contemporaries and in modern study. Sejanus did attempt to marry Livilla, the wife of Tiberius' son Drusus, but Tiberius blocked this as a measure of social conformity (Sejanus was still an equestrian and Livilla was a member of a noble family of the highest order). However, by 30 AD, Tiberius seemingly withdrew any public opposition to Sejanus' climb. Sejanus was betrothed to Livilla's daughter, and by 31 AD, he was named joint consul with Tiberius (an honorary compliment indicating that he was the official heir). In that same year, he was granted an additional share of the emperor's proconsular power, yet another step to the ultimate power. However, many argue that Tiberius was just keeping Sejanus in check and as unsuspicious as possible, as he was already suspected of treason.
Likely in 31 AD, Tiberius received a letter, which somehow managed to get through Sejanus' web of spies, from his widowed sister-in-law Antonia. She was completely within Tiberius' trust, perhaps because she had little involvement in political affairs. In her letter, she accused Sejanus of a plot to seize power, and Tiberius, whether he already suspected Sejanus or not, now began to act in a matter which confirms this belief. The emperor began feeling out the Senate and other Equestrians in postions of authority. Mixed messages regarding Sejanus' position were given in private, while in public, he continued to lavishly praise the man he called 'my Sejanus'. Coins were minted in his honor and statues erected, but Caligula meanwhile, began to be propped up in public as well. When Tiberius granted Sejanus proconsular power, Caligula was made Consul giving the appearance that perhaps he might yet play a part in the game of succession. Meanwhile too, other more mild attempts to keep Sejanus off balance were undertaken. Tiberius also learned, much to his relief, that the Praetorians were still loyal to him and only supported Sejanus because he was Tiberius' regent.
Now satisfied in his own security and that of his remaining family, Tiberius began the process of removing the powerful Sejanus (the man he had granted that power to in the first place). Q. Sutorius Macro was made the new commander of the Praetorian Guard and Tiberius sent him with a letter to be read before the Senate. In this letter, it was expected that Sejanus would be given tribunician power, much like the emperor himself, thereby making him co-emperor and the obvious choice for succession. However, Tiberius had another idea altogether in mind. First Macro made sure of the support of the Praetorians who were present, and in the barracks. While he was doing this, the incredibly long and rambling, yet supportive, letter of Tiberius was read before the Senate, and in the presence of Sejanus. Just as they thought it was going to offer Sejanus the power he craved, the letter changed tone abruptly scathingly denouncing his right hand man and ordering his arrest.
On 18 October 31 AD, Sejanus was arrested and the people of Rome celebrated. However, the men of the Senatorial elite were understandably panicked. Each had given support to Sejanus in some way, how could they not? Tiberius himself granted the man near imperial authority. That very same day, the man who seemed to be the front runner to become the third Roman emperor was executed and the order of things couldn't take such a dramatic swing without terrible repercussions. A veritable witch hunt of Sejanus' supporters was to commence, in which his family was largely executed. Livilla, the former wife of Tiberius' son Drusus, was executed for her role in that affair. His friends were denounced, tried and executed, or forced into suicide or exile. Tiberius attempted to convey that Sejanus was implicated for many reasons including plots against various family members. However, Agrippina and Drusus who still remained alive in imperial custody were allowed to rot away, experiencing unspeakable tortures for another 2 years after Sejanus' fall. Though the ancient sources, notably Tacitus, paint a gruesome picture of the year 33 AD, in which a final purge was to occur, some argue that Tiberius was actually quite just in his approach. However, to the aristocracy which would live on to tell the tale, Tiberius was a fool who allowed all of this to happen in the first place, and history remembers both he and Sejanus as evil men.
Pontius Pilate and Jesus
A major socio-political development during the reign of Tiberius and Sejanus was the Judean governorship of Pontius Pilate, and the emergence of Jesus Christ and the Christian religion that followed. Not only would the story grow into the most overwhelming religious force in the western world, but it also provides an important indication of the independent power of Sejanus and the contrasting imperial policy of Tiberius' tenure.
While evidence of Pilate's youth and career prior to Judaea is limited, the historical record indicates that he was appointed in or around 26 AD. Named Prefect (incorrectly called Procurator by Josephus) to replace Valerius Gratus (who had been Tiberius' first appointment) Pilate was very likely named by Sejanus, and not Tiberius, to govern the Jews. At this point Tiberius had very likely already withdrawn to Capri, leaving Sejanus in virtual charge of the empire. Even had Tiberius directly appointed Pilate, its quite clear that Sejanus would've had considerable influence over the selection. This could be of significant importance to the history of early Christianity and Jesus, because Sejanus was oft-accused of anti-Semitism in the ancient sources. Of course, those sources, Josephus and Philo of Alexandria, wrote from a Jewish perspective, but they paint a vivid portrait of Sejanus position towards Jews. Pilate too falls largely under the same accusations, even though there is evidence to the contrary. Coinage issued by Pilate seems to indicate a happy tolerance of both Paganism and Judaism, but the writers tell a different tale.
Sejanus' involvement is important to Pilate's behavior in the discussion of the Jesus mystery because it helps to corroborate at least some parts of the gospels, and other historical evidence. If Sejanus had direct authority over Pilate, which he would've after 26 AD regardless of Tiberius' initial involvement, then his feelings towards the Jews would likely have become part of the imperial policy. Though the Romans were generally smart enough to attempt appeasement, Sejanus was not necessarily a man who worried about appeasing anyone. He was a manipulator whose tactics seem very similar to those of Pilate's in Judaea. According to Philo, Sejanus planned to destroy the Jews completely. It would stand to reason that his governor would follow suit. In part at least, it seemed that he did. Pilate used a methodology of baiting the people to incitement, using their own protests as an excuse to force his will, and likely that of Sejanus.
According to Josephus, Pilate's first major act was that he ordered Roman standards brought within the walls of Jerusalem (a direct violation of the sanctity of the Jewish faith honoring false gods). The Jews reacted expectedly, but on this occasion Pilate only threatened to kill them (assuredly after at least some small punitive actions had been taken), before agreeing to removing the standards. Pilate also used money from the Temple treasury to construct an aqueduct. When the Jews assembled outside his quarters to protest, this time Pilate did not relent. He ordered soldiers to dress like the Jews and mingle among the crowd. When the trap was set Pilate sprung it by signaling his men to draw clubs hidden in their clothes, beating and killing many Jews. Pilate's behavior was largely one of disdain for the people he governed, but events were about to take place which would change that entirely. Under normal circumstances, it seems that Pilate would likely have cared little about instigating violence among the people, and seemed to rather encourage it. Why then would he later give up Jesus in the famed, yet completely unrecorded events (from a Roman perspective) surrounding the trial and crucifixion of Jesus? At a minimum, Pilate's behavior clearly changed after the fall of Sejanus.
In 31 AD, after Tiberius had roused from his deference to Sejanus, and had him executed for treason, the situation all over the empire changed dramatically. Pilate had much to fear from Rome as Tiberius set about eliminating Sejanus' supporters over the next few years. In erasing the attitudes of Sejanus, Tiberius also reversed the general policy of the empire towards the Jews. While under Sejanus the Jews were poorly treated, Tiberius by contrast, and simply to counter Sejanus (as Tiberius was no lover of Judaism himself), ordered that the Jews be tolerated. This imperial policy shift probably caused a great deal of consternation for Pilate. If the gospels are to be believed Pilate was soon faced with a dilemma that would not only challenge his authority, but if not handled correctly, could cost him his life. Despite his own personal feelings towards the Jews, his fear for Roman social status and survival would dictate his behavior. Normally Pilate would've resisted any attempt by the Jewish leadership to influence him, and in fact might have openly opposed their wishes. Had the Jews been incited to violence, this could offer an opportunity to go on the offensive, shrouded in the necessity to maintain order. With Tiberius back in charge, however, Pilate, and everyone else had to tread a very fine line. The Jews, it seems, were also very much aware of this.
Sometime after 32 AD and prior to Tiberius death in 37 AD, Jesus was brought before Pilate for treason against Rome. As the story goes, which is told most importantly in the Gospel of Mark, by Josephus and also by Tacitus, the Jewish leadership wished Jesus killed essentially for being a blasphemer against their faith and against them personally. Jesus and his teachings were subversive to ancient Jewish culture, and they had to have him removed in order to preserve their tradition and authority. However, only Pilate had the authority to address the matter, and Pilate, as has been suggested, was normally in position to oppose Jewish desires at any opportunity. Pilate's attempts to free Jesus, regardless of any numerous false stories regarding divine intervention, likely only stemmed from his desire to boost anyone who opposed the Jewish leadership. Jesus was just such a man to continue stirring the Roman policy of incitement. However, what Pilate was ultimately faced with was the potential for the treason trials of Tiberius back in Rome.
Despite several attempts to resist demands of Jesus death, Caiphas and the Jewish leadership wisely invoke the use of the term 'Amicus Caesaris' against Pilate to get their way. This term 'friend of Caesar' were not just theoretic words of friendship but practically functioned as a title. Losing that title, in Pilate's case by not following Tiberius' new Jew-favorable policies, might not only cause him to lose his job as Prefect, but potentially his social standing, and at worst his life. The Jews with full knowledge of Roman politics, because of Pilate's previous behavior and relation to the known traitor Sejanus, knew exactly how to force their will. Faced with a man accused of being 'King of the Jews', a crime against Tiberius himself, Pilate had no choice but to relent, and crucified Jesus in order to preserve the peace, and his own skin.
Though the facts of the historical Jesus and the life of Pilate are debatable, it is quite clear that had Jesus lived, he would've faced crucifixion after the fall of Sejanus. By late 36 Pilate had been recalled to Rome, though perhaps fortunately for him, Tiberius died while he was en route. By that reasoning the historical Jesus must have been crucified between 32 and 36 AD. Regardless, of the 'truth' of the matter, the story of the Christ spread from this point and throughout the Roman world. Initially under the missions of men such as James and Paul, the fledgling faith spread first among the Jews than into the eastern provinces. Under Peter, Christians began to appear in Rome and within approximately 400 years, the cult that started under mysterious circumstances during the reign of Tiberius, and Sejanus, was the dominate faith of the western world. As for Pilate, after his recall from Rome, virtually no evidence exists of his fate. Stories of his conversion to Christianity, suicide out of guilt or to avoid punishment are completely unverifiable and Pilate disappears from the historical record with the passing of Tiberius.
Tiberius: The Final Years
The fall of Sejanus and the subsequent treason trials marred the end of Tiberius' reign as much as allowing his Praetoian Prefect to take power in the first place. While, on the surface, Tiberius' later reign was described as a bloodbath and a reign of terror by Tacitus, relatively few lost there lives in comparison to the repeated disorders of the late Republic. Still, the Roman aristocracy hated him, perhaps in part due to his lack of decisiveness. Tiberius seemed always to be a Republican at heart and only wanted the Senate, or someone, to prove competent enough to govern. However, his greatest fault may have been that he failed to understand the truth; that the Republic was truly dead, and rule could only be achieved by a single man, or a select chosen few.
By 34 AD the trials of the 'maiestas' (Law of Treason) were over, and Roman aristrocracy may have returned to some sense of normalcy. However, normalcy under Tiberius was difficult to define. Since his retirement to Capri in 26 AD, the emperor never returned to Rome and seemingly rarely visited the Italian mainland at all. Hatred for him led to all sorts of accusations of perversion and sexual indulgence. Paranoia, fostered through years of Sejanus' various plots, and bearing witness to a lifetime of political wrangling and family dysfunction, did little to help his legacy, and kept some truths of Tiberius' last 12 years hidden from history. He certainly fell victim to the political propaganda of later historians, who in so doing granted support to the serving Emperor in their own era, but Tiberius was no model citizen. His choice of heir, Gaius (Caligula), (and Tiberius Gemellus, who wouldn't live to see his ascension to fruition) would later cast additional clouds on Tiberius' reign, despite the fact that the son of Germanicus was certainly a popular choice at the time. Caligula himself, though, made little mention of his uncle's activities while he stayed with him on Capri. Though the accuracy of Caligula's perceptions may have been clouded anyway, based on the activities of his own reign, his silence on the matter of debauchery on Capri seems to indicate that Tiberius' may have been unduly blasted by the historical record. Regardless, Tiberius was, by the end of his reign, a generally despised figure in the perception of the elite and the common Roman alike.
Despite his inadequacies in dealings within Rome, Tiberius' saving grace was in his seemingly capable abilities as an administrator. He generally followed the practices set down by Augustus and allowed his predecessors rules to continue and sink in. He wisely chose to adhere to Augustus' policy on non expansion, and except for some light campaigns in Germania (necessary to quell legionary revolt), did little in the way of foreign conquest. He suppressed a relatively minor revolt in Gaul under Julius Sacrovir and another more lasting affair under Tacfarinas in Africa. In Armenia, Tiberius efficiently handled political instability through diplomacy, never requiring the use of force. His provincial governors were mostly capable men who served admirably. With the one exception of Piso in Syria, whose rivalry with Germanicus may have cost the latter his life, provincial government ran smoothly and effectively. In fact, Tiberius was so willing to let effective governors stay in place that he left some in their positions for upwards of an unprecedented 10 and 20 years.
Whether Tiberius is remembered as a depraved pervert who reined using murder and mayhem and allowed the rise of Praetorian influence, or as an effective administrator with Republican leanings, the true result of Tiberius rule was the ironic total destruction of the Republican ideal. While Augustus allowed a facade of Senatorial governing to continue to exist, under Tiberius, that facade failed to continue, certainly in part due to Sejanus' rise. Tiberius also poorly prepared for the continuation of the Principate. His own involvement in the destruction of the imperial family, something Augustus would never allow while he lived, helped bring about a lack of quality in succession. Though the popularity of Caligula was certainly overwhelming at first, Tiberius did little to prepare his successor for the rule of the Roman world.
Rome's second 'Emperor' died at the port town of Misenum on March 16, 37 AD. At the age of 78 and a reign of 23 years Tiberius, despite all his faults, proved a successful continuation of the Augustan Principate. Later writers suggested that Tiberius was smothered at the behest of Caligula (who was never really sure if he was the official heir), but such accusations are to be expected in the political climate of the time. Regardless, Tiberius was 78 years and in poor health at his death. His complete unpopularity is proven by the absence of being voted divine honors by the Senate. Caligula never pushed for it, and his successor Claudius, who did force the deification of Tiberius' mother Livia, certainly wasted no effort on Tiberius's behalf. Tacitus, Dio Cassius and Suetonius certainly painted a bleak picture of Tiberius and his reign. According to Suetonius: "the people were so glad of his death, that at the first news of it some ran about shouting, "Tiberius to the Tiber," (a form of punishment reserved for criminals) while others prayed to Mother Earth and the Manes to allow the dead man no abode except among the damned."
Did you know...
In the Bible, Tiberius is mentioned by name only once, in Luke 3:1 (stating that John the Baptist entered on his public ministry in the fifteenth year of his reign).
Did you know...
A Praetorian prefect was a Roman magistrate, responsible for the imperial guard and the administration of justice.
Did you know...
Pontius Pilate (Latin Pontius Pilatus) was the governor of the small Roman province of Judea from 26 until 36 AD.