Introduction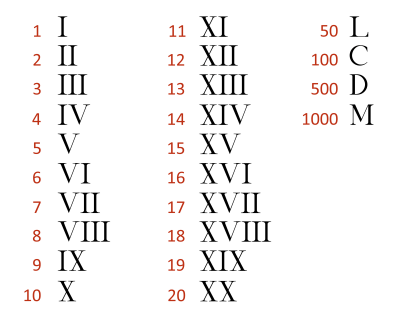 The ancient Romans wrote numbers through a combination of just seven letters. The quantity and order of these letters determined the value of the number.
At first glance they can look confusing against our modern way of expressing numbers (which are based on early Arabic numerals), but Roman numerals are actually derived around a base unit of 10 just like modern numbers. One possible explanation for this is because humans started counting using fingers (See "Origin of Roman Numerals" section below for more).
---
Table of Contents:
---
How to Read Roman Numerals
As mentioned above, Roman numerals are written through a combination of seven letters. These are:

I = 1
V = 5
X = 10
L = 50
C = 100
D = 500
M = 1,000
In their simplest form, numbers are expressed by combining letters together, effectively creating a small math problem that needs to be solved by adding the letters (or, more specifically, the numbers that they represent, together). Having these letters such as V and X for 5 and 10 is important, otherwise a number such as 27 would be expressed by having to write 27 individuals "I" letters!
Translating Roman numerals into numbers can be confusing and hard when first starting out, and even experienced scholars often have to take a moment to work it out! Start off by taking a look at the Roman numeral chart below to see it in action. However, you may find that certain numbers aren't written as you would expect, and why aren't big numbers written as an extremely long line of letters? More detailed explanation can be found underneath the chart.
Roman Numerals Chart
The chart below shows the Roman numerals for the numbers 1-25, and a large selection of others.
Selected numbers above 4,000 are shown, however, make sure you also read the section "Was 3,999 the highest that the Romans could count?"!
| | | | |
| --- | --- | --- | --- |
| Arabic or Modern | Latin or Roman | Digit Form | Ordinal Form |
| | . | example - one, two, three... | example - first, second, third... |
| 1 | I | unus - una - unum | primus |
| 2 | II | duo - duae - duo | secundas |
| 3 | III | tres - tria | tertius |
| 4 | IV | quattuor | quartus |
| 5 | V | quinque | quintus |
| 6 | VI | sex | sextus |
| 7 | VII | septem | septimus |
| 8 | VIII | octo | octavus |
| 9 | IX | novem | nonus |
| 10 | X | decum | decimus |
| 11 | XI | undecim | undecimus |
| 12 | XII | duodecim | duodecimus |
| 13 | XIII | tredecim | tertius decimus |
| 14 | XIV | quattourdecim | quartus decimus |
| 15 | XV | quindecim | quintus decimus |
| 16 | XVI | sedecim | sextus decimus |
| 17 | XVII | septendecim | septimus decimus |
| 18 | XVIII | duodeviginti | duodevicesimus |
| 19 | XIX | undeviginti | undevicesimus |
| 20 | XX | viginti | vicesimus |
| 21 | XXI | viginti unus | vicesimus primus |
| 22 | XXII | viginti duo | vicesimus secundas |
| 23 | XXIII | viginti tria | vicesimus tertius |
| 24 | XXIV | viginti quattuor | vicesimus quartus |
| 25 | XXV | viginti quinque | vicesimus quintus |
| 30 | XXX | triginta | tricesimus |
| 40 | XL | quadraginta | quadragesimus |
| 50 | L | quinquaginta | quinquagesimus |
| 60 | LX | sexaginta | sexagesimus |
| 70 | LXX | septuaginta | septuagesimus |
| 80 | LXXX | octoginta | octogesimus |
| 90 | XC | nonaginta | nonagesimus |
| 100 | C | centum | centesimus |
| 200 | CC | ducenti | ducentesimus |
| 300 | CCC | trecenti | trecentesimus |
| 400 | CD | quadringenti | quadringentesimus |
| 500 | D | quingenti | quingentesimus |
| 600 | DC | sescengenti | sescentesimus |
| 700 | DCC | septingenti | septingentesimus |
| 753 | DCCLIII | sepingenti quinquaginta tria | Founding Year of Rome - April 21, 753 BC |
| 800 | DCCC | octingenti | octingentesimus |
| 900 | CM | nongenti | nongentesimus |
| 1000 | M | mille | millesimus |
| 1900 | MCM | mille nongenti | millesnongentesimus |
| 2000 | MM | duomilia | bismillesimus |
| 2100 | MMC | duomilia centum | bismilles centesimus |
| 3000 | MMM | tresmilia | tresmillesimus |
| 4000 | MMMM | quadramilia | quadramillesimus |
| 5000 | V | quinmilia | quinmillesimus |
| 6000 | VM | sesmilia | sesmillesimus |
| 7000 | VMM | septuamilia | septuamillesimus |
| 8000 | VMMM | octomilia | octomillesimus |
| 9000 | MX | nonamilia | nonamillesimus |
| 10,000 | X | decem milia | decies millesimus |
| 11,000 | XM | undecim milia | undecim millesimus |
| 12,000 | XMM | duodecim milia | duadecim millesimus |
| 50,000 | L | quinqua milia | quinqua millesimus |
| 60,000 | LX | sexa milia | sexa millesimus |
| 80,000 | LXXX | octo milia | octo millesimus |
| 90,099 | XCXCIX | nona milis novaginta novem | nona millesimus nonus |
| 100,000 | C | centum milia | centies millesimus |
| 200,000 | CC | ducenta milia | ducenta millesimus |
| 200,100 | CCC | ducenta milia centum | ducenta millesimus centum |
| 200,510 | CCDX | ducenta milia quindecem | quindecem |
| 500,000 | D | quingenti milia | quingenti millesimus |
| 600,000 | DC | sescenti milia | sescenti millesimus |
| 700,000 | DCC | sepusducenta milia | sepcenti millesimus |
| 1,000,000 | M | mille milia | mille millesimus |
This handy list of Roman numerals provides the most common numbers and useful points of reference. Looking at the chart, certain numbers are straightforward. The letters themselves correspond to the number they represent (e.g. I = 1, V = 5 etc). Also, many numbers make sense, such as 3 is III (I + I + I).
However, what is happening with other numbers like 4, which is written IV? Should it not be written as IIII? And if you add up the letters how its written (IV) does that not equal 6 (I + V)?
The answer is what is known as the subtractive principle.
The Subtractive Principle
The Romans didn't like having four consecutive letters of the same value together. Presumably this was because having lots of letters of the same type together made it difficult to easily determine the value. Expressing the number 8 for example as IIIIIIII would mean a person would have to individually count each "I" to work out what the number was.
To overcome this, the Romans wrote numerals using the subtractive principle or subtractive notion, whereby the first letter of the sequence is subtracted from the larger one. Once you get used to it, it makes the Roman numerals much easier to read quickly, as they are shorter than they otherwise could have been.
Looking at the Roman numeral chart again above, we can see that the number 9 is written as IX. Essentially this means 10 minus 1, which equals 9. If it wasn't expressed like this, it would be written down as VIIII (5 + 1 + 1 + 1 + 1). Although this would still make sense, it would take slightly longer to read, and lead to more errors if people missed out one of the "I" letters when they were counting them.
Keep in mind that this was a period of time long before the advent of electronics, so numbers would not have been neatly typed and printed. They would have been painted, carved, etched onto surfaces etc. They are likely to have been far from crisp and sharp in their font, making it important to make the sequences as short as practically possible.
How Do I Know the Number Should be Subtracted?
In a system which at first glance is all about adding together the numbers represented by the letters, knowing when to subtract a number can be tricky. So how do you know when to add or subtract letters when working out what number the Roman numeral equation represents?
The simple answer is that a number needs to be subtracted if it appears before a larger one. For this, you will need to refer to the chart of the seven letters used in Roman numerals at the top of this page.
A Simple Example
Using the chart, we can see that X is bigger (10) than V (5), which are both bigger than I (1). See how this applies to the numbers below:
XI = 11. The I (1) comes after the bigger number of X (10), which means they need to be added together to make 11.
IX = 9. The I comes before X, which means that 1 must be subtracted from 10, which gives 9.
If we simply added the numbers together that the letters represented, both results would be 11 (X = 10 plus I = 1). This is why whether a smaller number comes before or after the bigger number is so important.
A More Complicated Example – Bigger Numbers
In numbers containing more than two letters, it is only the number that comes after the smaller one which needs to be subtracted from. This is highlighted in the example below:
XXIX = 29. The sum is 10 (X) + 10 (X) + 9 (IX). Roman numerals are read from left to right, so the preceding letters are added together before then subtracting the smaller number from the bigger one that comes after it.
With only a limited number of letters, and with numbers being based around a unit of 10, there are in fact only six instances where this can happen:
I (1) before V (5) or X (10)
X (10) before L (50) or C (100)
C (100) before D (500) or M (1000)
Was 3,999 the Highest That the Romans Could Count?
The highest number that can be expressed in pure Roman numeral form is 3,999 which is written as MMMCMXCIX. This is because the number 4,000 would have to be written as MMMM, which goes against the principle of not having four consecutive letters of the same type together.
Overcoming This Issue with a Vinculum
The vinculum is a horizontal line used in mathematics above or below a value to indicate a certain purpose, such as a grouping or repeating decimal value. In modern day math it is often replaced by the use of parentheses.
In the Middle Ages, it was common to see numbers over 4,000 expressed in Roman numerals using a vinculum line above the letters. This line represented a multiple of 1,000, and could cover the whole or just the beginning part of a Roman numeral expression. This makes more sense when looking at the examples below:
VI

= 6 multiplied by 1,000 = 6,000

XXXV

= 35 multiplied by 1,000 = 35,000

XXV

VII – 25 multiplied by 1,000 plus 7 (VII) = 25,007. Notice how the vinculum only extends over the XXV to denote 25,000, whilst the rest of the Roman numeral which does not have the line is just stated as a "normal" Roman numeral.
This may work neatly, however there is much debate over whether this system was in fact actually used by the ancient Romans, or whether it was simply a product of later generations and civilizations. If this is the case, it implies that the Romans had no way of counting above 3,999. This may sound impossible for us today and our modern way of thinking, but it is not as strange as it sounds.
It needs to be remembered as to what the Romans actually used their number system for. The primary usage was in trade and commerce, and for the average trader it was highly unlikely that they ever had over 3,999 of anything, whether it be items, money etc. This may seem extremely alien to us today, with units of currency where we can spend tens or even hundreds of thousands of it in one go on large purchases, or huge corporations that can manufacture and ship millions of items, but it was not all that common back then.
While it may have been less common to deal with numbers of 4,000 and above, or have the need to write it down, it still seems unlikely that the Romans would not deal with some things over this amount. If the Romans did indeed not use a vinculum for recording numbers in this manner, the explanation might be found in the actual way of quantifying items rather than the numbers themselves.
In today's society we grow up and live in a world of large, total numbers. We have a certain amount of dollars in the bank, it's about 238,855 miles to the moon1, in 2019 US GDP was $21.43 trillion2, about 68 million people live in the United Kingdom3 etc.
Huge, total numbers. But whilst the ancient Romans did not have much to think about in such numbers (unless they thought about the number of grains of sand on a beach or something), it is quite likely that they thought of numbers in terms of groups rather than as actual total numbers like we do.
Clues can be found in the way certain elements are structured in the Roman world. For instance, the Roman military was highly divided into units, which were themselves comprised of other units. As we have seen from the structure of an Imperial legion, a single legion that typically had 6,000 men in it consisted of 10 cohorts. Of these, each cohort was made up of 6 centuriae. Each centuriae was made up of 10 contubernium (tent groups), of which there were 8 men per tent.
Could this organization through grouping be reflective of the Roman way of thinking? If so, rather than Julius Caesar pondering to himself before a battle that he had an army of 24,000 men, he may have been more likely to just think that he had 6 legions. Even if he did think about the number 24,000, if he were to write it down somewhere it would be far simpler to write "VI" rather than numerals equivalent to 24,000!
Origin of Roman Numerals
The history of Roman numerals and Roman mathematics isn't well documented. As humans likely began counting by using the simplest things available - the fingers - mathematics developed in a base unit of 10. Actively involved in trade and the use of monetary units, the Romans required a system where counting was more than fingers. The development of the numeric symbols may have been closely related, originally, to the shape of the hand: I for a single finger, V for the whole hand outstretched, X for both hands in the same manner.
Like so much of early Roman culture, a lot was based on earlier civilizations that existed in the Mediterranean region, which at that time were superior to the fledging Roman empire. One of the most similar numbering systems to that used by the Romans was in use by the Etruscans. This will come as no surprise, as the Etruscan civilization covered much of northern Italy, and had a significant impact upon the development of the Romans to the south.
What about Zero? Isn't There a Number Missing?!
In all the letters and numbers currently swirling around your head as you try and make sense of this ancient numbering system, you may or may not have noticed that nowhere has there been a mention of zero. In a similar vein to why the Roman numbering system did not readily go above 3,999, the number zero was not featured by the Romans simply because they had little use for it!
When trading in the market, nobody went up to the baker and asked for no loaves of bread (or if they did, the baker would quickly chase them away for wasting their time!) It served very little practical purpose. Of course, the concept of zero did exist, in the form of nulla (Latin: Nothing) to express an absence of something, but unlike the modern numbering system which need zeros to have meaning (10, 403 etc) the Romans could construct all of their numbers from combining the seven letters listed at the top of the page.
Modern Uses of Roman Numerals
Despite being quite cumbersome compared to modern 0-9 numbers, Roman numerals are still found in a surprisingly wide variety of places. One possible reason for this is simply because of their age. Quite often people think elements from the past are more stylish than modern taste, and the use of Roman numerals can often give the appearance of elegance. A common example of this is found in ornate clocks and watches that use Roman numerals on the face or dial instead of 1-12.
Many other examples exist of where Roman numerals are still used in descriptions and references today. These include:
Copyright dates on movie credits and TV shows
Sequels to films (e.g. Rocky III)
Dates on statues and public buildings
Referring to monarchs and popes (e.g. Elizabeth II). Also typically appears on their coinage.
General suffixes (e.g. the golfer Davis Love III)
Sporting Events (e.g. Superbowl XLIX, WrestleMania XXVIII etc.)
Years as Roman Numerals
Talking of Roman numerals in movies and TV shows, if you want to find out when that movie or show you just watched was made, you can work it out yourself using the explanation above… or just use the handy list below which show dates from the year 1990 onwards!
MCMXC = 1990
MCMXCI = 1991
MCMXCII = 1992
MCMXCIII = 1993
MCMXCIV = 1994
MCMXCV = 1995
MCMXCVI = 1996
MCMXCVII = 1997
MCMXCVIII = 1998
MCMXCIX = 1999
MM = 2000
MMI = 2001
MMII = 2002
MMIII = 2003
MMIV = 2004
MMV = 2005
MMVI = 2006
MMVII = 2007
MMVIII = 2008
MMIX = 2009
MMX = 2010
MMXI = 2011
MMXII = 2012
MMXIII = 2013
MMXIV = 2014
MMXV = 2015
MMXVI = 2016
MMXVII = 2017
MMXVIII = 2018
MMXIX = 2019
MMXX = 2020
Roman Numerals Converter Tool
Use the Roman numeral converter tool below to either convert a Roman numeral into a modern-day number, or vice-versa. Of course, this tool is only accurate up to the number 3,999… if you've read the rest of this article you'll know why! It is particularly handy for finding out the date of when a particular movie was made if the date is in Roman numerals, if it was made before 1990 and is not in the list above, or for finding out your birthday year in Roman numerals.
This free script provided by
JavaScript Kit
Did you know...
The first evidence of zero is from the Sumerian culture in Mesopotamia, some 5,000 years ago. The symbol changed over time as positional notation, for which zero was crucial, made its way to the Babylonian empire and from there to India, and to the Greeks. The Romans had no trace of it at all.

---
Sources for figures:
1. https://spaceplace.nasa.gov/moon-distance/en/
2. https://www.bea.gov/news/2020/gross-domestic-product-fourth-quarter-and-year-2019-advance-estimate
3. https://www.worldometers.info/world-population/uk-population/