Daily Life in Ancient Rome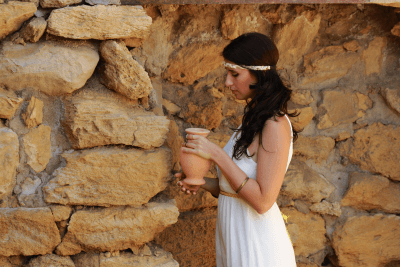 Despite living roughly 2,000 years ago, daily life in ancient Rome was actually not that much different to our own in many respects. The vast majority of the population had to go to work to earn enough money to live on. They spent time with family and looked after the administration of the household. And in their spare time, they took part in recreational activities, and attended the equivalent of modern-day sporting events in the form of gladiator games or chariot racing in large stadia such as the colosseum.
Of course, daily life differed greatly depending upon not only whereabouts in the empire you lived, but also who you were.
For those living in Rome itself, the heart of the empire and the grandest of all cities, life could be very different to the rest of the population living out in the provinces. Just like the advantages and disadvantages of urban dwelling versus country living today, the big city offered more choice of entertainment, lavish buildings and greater opportunities for trade and commerce, but at the same time they could be far more cramped, dirty and polluted than living out in a small town or village.
No matter where you lived, who you were also had a big impact on your day-to-day existence. The life of a Roman emperor was obviously worlds away from the life of a slave in terms of what they had and what they were required to do. If these were the two extremes, then every other person making up the population in between had different opportunities and expectations. In general though, the concept of working to earn a living, spending time with family members, and attending events or pursuing leisure activities in free time is a life which many of us can still relate to today.
The Many Different Areas of Life in Ancient Rome
The Romans encompassed hundreds - if not thousands - of cultures, and made up a diverse group of ethnic, social, religious and economic standing. The Roman empire truly was the world's first melting pot.
In this 'Daily Life' section we will look at those very interesting pieces of everyday living that had an impact on, or were an integral part of, the Roman world.
From clothing to religion, and medicine to weights and measures, we will examine all of those things that were as commonplace to the average Roman as our own daily routines are to us today. Also, find out how some things sound completely strange to us, and yet others will be surprisingly familiar.
Please use the links below to find out more information about daily life in ancient Rome, Roman culture, entertainment, literature and much more.
---
Roman Economy
Just like any civilization, country or state in ancient or modern times, a stable and strong economy is vital. When the economy falters, problems can quickly arise such as mass unemployment and population unrest. In fact, many historians believe that the collapse of the economy was one of the main reasons for the eventual decline and fall of the Roman empire.
The economy played a significant part, either directly or indirectly, in the lives of every Roman citizen. Whether it was the importation of luxury goods from lands far away such as silk from the East, the level of taxation levied, or even just the value of the coinage in their purses with which to buy bread, grain and other foodstuffs to survive, there was no escaping how essential the Roman economy was to everybody.
FIND OUT MORE ABOUT THE ROMAN ECONOMY
---
Roman Religion
Religion played a huge part in the daily lives of the entire Roman population. From an all-powerful emperor right down to the lowliest slave, to not have religion in their life would have been unthinkable back then. The Romans believed that all events were directed by, and affected through, the actions of their gods and goddesses, and that angering or neglecting them through a lack of devotion would bring about disaster and misfortune.
Unlike Christianity, with the belief in a single deity, the Romans had a large number of different gods and goddesses, all responsible for their own different aspects of daily life. As well as having both major and less-important deities, the Romans also believed in household spirits/guardians (Lar Familiaris), as well as there being various cults in existence too.
Not surprisingly, the topic of Roman religion is a complex one. Find out more about it by clicking on the link below!
FIND OUT MORE ABOUT ROMAN RELIGION
---
Gladiator Games
Gladiator games were the ancient Roman equivalent of modern day football matches... only much more violent! The population would pack out stadia to watch and be entertained by the events being played out before them in the arena. Contrary to popular belief, gladiator fights did not always result in death for one of the participants, and it was quite common for a gladiator's life to be spared, particularly if he had fought well in the contest, or gained popularity with the crowd from previous bouts.
Gladiator games were often used as tools by wealthy aristocrats in order to gain support from the population for advancing their political career. Huge sums of money were spent on staging ever more lavish games and festivities, and was a tactic employed by most aspiring politicians, including Julius Caesar.
FIND OUT MORE ABOUT GLADIATOR GAMES
---
Roman Slavery
Much of the Roman way of life depended upon slavery. As Roman military might continued to expand the borders of the empire into new territory, an ever-increasing supply of free labor meant that more and more slaves were put to work in order to benefit Roman citizens.
Roman slavery is a fascinating, if dark, subject, with many surprising facets. For instance, not all slaves were treated how we would imagine, with some household servants becoming so respected that they were treated exceptionally well and even considered part of the family. The number of slaves became so numerous that it even destabilized the fabric of Roman society, and had an unintended adverse effect upon the lower class of Roman citizens, who found it increasingly difficult to find low-skilled paid work as they were replaced by slave labor. And then there are the exploits of Spartacus and the slave revolt.
It is also interesting to learn how attitudes towards slavery changed in the latter part of the Roman period, particularly as Christianity became the dominant religion of ancient Rome.
FIND OUT MORE ABOUT ROMAN SLAVERY
---
Roman Medicine
The people of ancient Rome suffered illnesses and accidents just like we do today. Like us, they also wanted to make themselves (or others) better.
However, despite an excellent knowledge of anatomy (no doubt helped from observing battlefield and gladiator injuries) they had little knowledge or understanding of subjects such as biology and germs. This meant that Roman medicine was limited to a little basic understanding, and a lot of religious belief.
FIND OUT MORE ABOUT ROMAN MEDICINE
---
Roman Clothing
Clothing and fashion was not just a method of keeping warm and covering one's modesty, but also a powerful projection of style, conformity and status.
For Roman citizens, the type and style of clothing worn not only varied between the sexes, but also depended on other factors such as wealth, political status and marital status. Add to this the different styles worn by people of other cultures that lived within the Roman empire, and there was always a great variety of styles and fashions to be seen when walking around town.
FIND OUT MORE ABOUT ROMAN CLOTHING
---
Roman Language
The language spoken by the ancient Romans was Latin, which was brought to the Italian peninsular in about 1000 BC by Indo-European immigrants from Northern Europe. Latin would quickly spread over a larger part of Italy, in direct correlation to Roman conquests.
With the establishment of the Roman empire, a large portion of the western world would come to speak various forms of Latin, or have it intermingled with their own native tongues. While classical Latin developed in the city of Rome and its environs, a spoken vernacular form of Latin was carried by the legions throughout the Roman provinces.
Although now a dormant language, Latin words continue to be a frequent sight in numerous aspects of modern life, being found in places like scientific names, legal documents, and forming the basis for a huge number of modern words, place names etc... See what we did there? (etc is an abbreviation of et cetera, Latin for 'and the rest').
FIND OUT MORE ABOUT THE LATIN LANGUAGE
---
Roman Numerals
Roman numerals expressed numbers through combinations of just seven letters. Although more confusing than our modern-day system of numbering which is based on Arabic numerals, learning about how to read and understand Roman numerals can be an important skill to learn, as they are found in a great many places still.
Much more information can be found by clicking on the link below, including a handy Roman numeral convertor tool for easily finding out modern numbers or Roman numeral equivalents.
FIND OUT MORE ABOUT ROMAN NUMERALS
---
Roman Literature
The Roman period gave us many famous poets and writers, many of whom were not only well-respected in their own time, but continue to be read and enjoyed in modern times as well.
FIND OUT MORE ABOUT ROMAN LITERATURE
---
Roman Houses
From luxurious villas to cramped and dirty slums, just like today the Romans had homes and dwellings which encompassed the entire spectrum of wealth and affordability.
Roman houses were initially quite simple structures until conquests and expansion to the East brought tremendous wealth into the empire. As certain individuals and families began to become rich, ever more grand and elaborate villas were able to be built.
FIND OUT MORE ABOUT ROMAN HOUSES
---
Roman Aqueducts
Aqueducts were a remarkable feat of Roman engineering, bringing clean water right into the cities from sources many miles away, using nothing but the force of gravity. This water was usually then stored in giant cisterns before being dispersed around the city to fountains, public baths and even direct to the homes of the very wealthy.
Essential for drinking, bathing and sanitation, getting water to the cities was a key priority for those in power. Despite the obvious effort involved in constructing a large aqueduct, some of which are remarkably still standing today, it was necessary in order to satisfy the demands for water that the population of a large city would need.
FIND OUT MORE ABOUT ROMAN AQUEDUCTS
---
Roman Roads
Approximately 50,000 miles (80,000 km) of roads spanned the Roman empire, spreading its legions, culture, trade goods and immense influence throughout the world.
Roman roads played a crucial yet often overlooked part in the basic functioning of the empire. The roads connected cities and ports with the frontiers to allow the easy flow of supplies and people. Without the roads, the empire would have been little more than a collection of city states and outposts, whch would have been far more vulnerable to attack. If this were the case, it would have severely weakened the overall strength of the Romans in the Mediterranean region.
FIND OUT MORE ABOUT ROMAN ROADS
---
Roman Marriage
A surprising number of Roman marriage customs survive to the present day, although most Roman marriages were more akin to business transactions than a celebration of love and romance.
While women were not able to hold positions of power within the political or social system, many married women ran the household and private lives of their husbands with complete authority.
Click the link below for more information and to see a list of basic Roman wedding customs.
FIND OUT MORE ABOUT ROMAN MARRIAGE
---
Roman Calendar and Time
In the early days of the Roman Republic, the Romans had a rather complex method of measuring time and dates, complicated further by linking dates to lunar cycles and important religious festivals. This calendar needed "maintaining" in the form of adding days during the winter months to try and get the calendar, which was based on 10 months and only 304 days, to "balance".
The introduction of the Julian calendar, which followed the solar year rather than the lunar year, greatly improved accuracy, and is the basis of our calendar today. It was discovered by Julius Caesar when he was in Alexandria, Egypt and introduced to the Roman world by him. Although therefore not created by him, he gets the credit of having it named after him, for "discovering" it from the ancient Egyptians.
FIND OUT MORE ABOUT THE ROMAN CALENDAR AND TIME
---
Weights, Measures and Areas
Accurate measurements were essential for complicated engineering work such as aqueduct construction, as well as ensuring fair measures were given to buyers at markets.
Many modern measurements are also based on the size of the weights and measures used by the ancient Roman people, examples of which can be seen by clicking on the link below.
FIND OUT MORE ABOUT ROMAN WEIGHTS, MEASURES AND AREAS
---
Roman Names
A rigid naming system, particularly during the period of the Republic, gave little room for parental choice. This meant that many Romans had very similar names to each other.
The Romans also liked to honor their ancestors, and at the same time attach a level of prestige, to their children by naming them after prominent people who had achieved great things in the past.
Please click on the link below to read a comprehensive article on Roman naming practices during the Principate period of Roman history.
FIND OUT MORE ABOUT ROMAN NAMES
The Romans encompassed hundreds, if not even thousands, of cultures, and made up a diverse group of ethnic, social, religious and economic standing.