Weights and Measures Used in Ancient Rome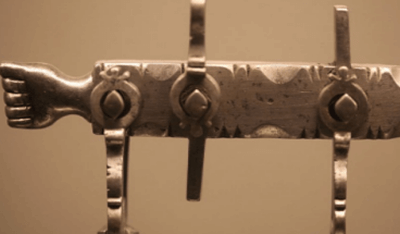 Many units of measurements in the modern western world have a direct relationship dating back to the Romans.
The modern mile, pound (lb for libra) and ounce (uncia) are all directly traceable. Some other similarities, such as the width of rail road rails, is said to correspond directly to groove marks left in Roman roads, but this theory is widely debated.
The following charts list the basic units of measurements used by the Romans. It is interesting to see how the American and old British systems, as tedious as it can be vs. the Metric, is so closely related.
Roman Weight Measurements

Unit

Roman Equivelant

Description

Modern

Libra

12 uncia

Meaning balance. The abbreviation for the modern pound (lb.) has its roots directly to the Roman unit.

3/4 pound or 336 grams.

As

6 uncia

Also the base unit of the Roman coinage system.

none

Uncia

Base Unit

Both modern inch and ounce are derived from the Roman uncia.

1 modern ounce or 28 grams.
Roman Area Measurements

Unit

Roman Equivelant

Description

Modern

Centuria (centuriae)

100 heredia

Roughly measured as the area taken up by a single century of Roman legionaries.

124 acres or 506 sq. km

Heredium (heredia)

2 iugera

28,800 sq. Roman feet.

1.24 acres or 5,060 sq. meters

Iugerium (iugera)

2 actus quadrans

Approximately 3000 square yards. This was roughly the area of land a pair of oxen could plough in a day.

5/8 acre or 2,530 sq. meters

Actus Quadrans

1/2 iugera

Translated as 'square driving'. Roughly 14,400 sq. Roman feet.

.312 acres or .126 hectares
Roman Distance Measurements

Unit

Roman Equivelant

Description

Modern

Mille (mille passus)

1000 passus

Roman mile. With 5 Roman feet in a passus, a Roman mile was 5,000 ft. Slightly shorter than a modern mile.

4,854 modern ft. or 1,480 meters.

Stadium (stadia)

125 passus

Used often as a measurement by sea. 125 passus = 625 Roman ft.

607 ft. or 185 meters

Actus

120 pedes

Used for land surveying and roughly translated as how far oxen would drive a plough before being turned. Equal to 120 Roman feet.

116.5 ft. or 35.5 meters

Passus

1/1000 mille or 2 gradus

Roughly the 'pace' step of a single legionary. 5 Roman ft.

4.85 ft. or 1.48 meters

Gradus (gradii)

2 1/2 pedes

1/2 passus (2.5 Roman ft.)

2.43 ft. or .74 meters

Pes (pedes)

12 unciae

Roman foot.

11.65 inches or 29.6 cm

Uncia (unciae)

Base Unit

Roman inch.

0.97 inches or 24.6 mm
Roman Volume Measurements

Unit

Roman Equivelant

Description

Modern

Amphora (amphorae)

2 urnae

Base measurement of Roman liquids, named for the large containers used to transport wine and other liquids on ships.

6.8 gallons or 25.79 liters

Urna (urnae)

4 congii

1/2 of the Amphora

3.4 gallons or 12.8 liters

Modius (modii)

16 sextarii

Generally used to refer to dry goods, especially grain. A modius was roughly one third the size of an Amphora.

2.4 gallons or 8.7 liters. For dry goods, roughly equal to a peck or bushel.

Congius (congii)

12 heminae

A unit of liquid measurement. 1/8 of an Amphora.

.85 gallons or 3.2 liters. For dry goods, roughly 10 pounds

Sextarius (sextarii)

2 heminae

The standard unit of liquid measurement. 1/6 of a Congius.

1.14 pints or .546 liters

Hemina (heminae)

24 ligulae

A unit of liquid measurement. 1/2 Sextarius.

.57 pints or .27 liters.

Quartarius (quartarii)

12 ligulae

1/4 Sextarius

.28 pints or 13 centiliters

Ligula (ligulae)

Base unit

Smallest unit of Roman liquid measurement.

.34 fluid oz. or 1.14 centiliters
Did you know...
Aediles were responsible for the supervision of water supplies and administration of public market and weights and measures.
Did you know...
The Groma (resembling a surveyor's cross) was the favored aligning instrument of the Romans.
Did you know...
The Congius volume measurement was also used in England, as appears by a charter of Edmund I in 946 AD.