Commodus (161 - 192 AD)
Emperor: 180 - 192 AD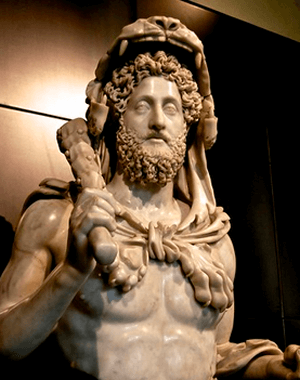 The accession of the 19 year old Commodus upon the death of his father Marcus Aurelius on March 17, AD 180 is often considered a catalyst that sparked the initial decline of the Roman Empire. Whether or not the assertion is true and Commodus acted as a catalyst, or if he was simply a piece of an evolving and dynamic Roman puzzle is a matter of perspective and interpretation.
It is interesting that the death of Marcus Aurelius is considered the end of the "Pax Romana" (The Roman Peace) but the reign of Commodus was largely as peaceful as that of Antoninus Pius a half century earlier. While he was immensely popular with the common people and legions, his reputation as a contributor to the decline of the empire was largely dependent upon a poor relationship with the Senate. Megalomaniacal behavior, irreverence for the institution of the Senate and a Sulla-like affinity for proscription earned the lasting enmity of that social order that produced the historians.
Lucius Aelius Aurelius Commodus (later Marcus Aurelius Commodus Antoninus upon accession) was born August 31 AD 161 at Lanuvium, a small town in the outskirts of "metropolitan" Rome. He was the second to last of 13 children born to the Emperor Marcus Aurelius and Faustina the Younger. Of these children, 7 were boys but only Commodus seems to have survived beyond young adulthood. His father had been emperor for only a few months (March, AD 161) prior to his birth, but Commodus had been marked for succession very early. He was officially named Caesar (or heir) at the age of five and had begun a typical aristocratic education. Such an example of direct hereditary accession had not occurred since the Flavian dynasty (Vespasian, Titus and Domitian) nearly a century prior. While the previous emperors (Trajan, Hadrian, Antoninus, Marcus Aurelius and Lucius Verus) had been cultivated through adoptive succession, this can at least be partly attributed to the fact that these men did not have sons of their own. While Marcus Aurelius is criticized for appointing his son as heir in contrast to his predecessors rather than adopting a qualified candidate, it's impossible to determine the course of events had circumstances been different.
The ancients (i.e. Herodian, Cassius Dio and the Historia Augustus) speculate on the manner of Commodus' personality and set him up almost as a pre-destined evil entity. Whether the "evils" of Commodus as reported were due to later events in which he alienated himself from the aristocracy, or were in fact representative of Commodus' nature and upbringing in a condition of supreme authority is clearly open to perspective and interpretation. Whatever the foundations of enmity between Emperor and nobility, be it a clear behavior and personality issues beginning in his youth or rather the nature of his later administration, there remains a consensus of distaste from the ancients. Dio opens his book 73 on Commodus thusly: "This man was not naturally wicked, but, on the contrary, as guileless as any man that ever lived. His great simplicity, however, together with his cowardice, made him the slave of his companions, and it was through them that he at first, out of ignorance, missed the better life and then was led on into lustful and cruel habits, which soon became second nature. And this, I think, Marcus clearly perceived beforehand. Commodus was nineteen years old when his father died, leaving him many guardians, among whom were numbered the best men of the senate. But their suggestions and counsels Commodus rejected, and after making a truce with the barbarians he rushed to Rome; for he hated all exertion and craved the comfortable life of the city."
While there is speculation that Marcus Aurelius feared for the future of the empire because of the mannerisms of his son, his actions do not necessarily correspond to this notion. At the age of 16 years Commodus was appointed to the high station of co-Augustus, though his father did maintain clear ultimate authority. While this was done in part to illustrate the well defined nature of succession after the ill-fated revolt of Avidius Cassius in Syria, for much of his childhood and early adulthood, Commodus had already accompanied his father while on campaign along the Danube. Without question he was groomed as successor and was even given the military training his father never had and by AD 178 was leading legions in battle against the Quadi and Marcomanni.
When Commodus was only 19 years of age, Marcus Aurelius (just shy of his 59th birthday) died in AD 180 and the control of the empire was left to the a young man with a great deal to prove. Commodus immediately began to treat with the Marcomanni in order to bring the decade's long wars of his father to a close. While this was unpopular in many circles it may not have been as unpopular with the legions and common citizen classes as generally reported. While there may have been a sense of a job left unfinished and his father's wishes to see the border lands transformed into Romanized buffer provinces were left unfulfilled, the war coupled with the Antonine plague had drained the treasury and the manpower pools. Commodus understood that the war had been devastating despite its accomplishments in ensuring peace along the Danube for the better part of the next generation. In addition and perhaps more importantly, as a young man, despite his grooming under his popular father, he also surely understood the need to return to Rome in triumph to secure his possibly tenuous position as successor. Only a few years removed from the revolt of Cassius, for Commodus to have risked alienating his army by ending the war early, the one force capable of securing any bid for succession, seems unfathomable. Rather it's quite likely judging by the initial popularity of the youthful princeps, that the legions were all too happy to have peace with their persistently dangerous Germanic neighbors.
The bitterness expressed by the aristocracy over Commodus' handling of securing that peace seems to be the catalyst that sparked initial dislike. In his haste to return to Rome, Commodus seemingly made several unpopular concessions (release of prisoners, annual levies and grain procurements, etc.) which possibly could've been avoided if there was no need for haste. In order to secure his position, he sacrificed some of the hard fought victories of the past 20 years, and it's difficult to determine this as brash, dismissive exuberance or wise policy. It had been quite established that the ability of the empire to maintain borders outside natural defensible positions such as the Danube was difficult at best (Augustus/Tiberius in Germania and Trajan/Hadrian in the east and Dacia). Commodus may have understood that continuing the war would be costly and eventually futile or he may have truly just wished to return to Rome in glory. Regardless of the truth, he seems to have never been forgiven by the writers of history. In fact, Cassius Dio blames the emperor's haste simply on the notion that "he hated all exertion and craved the comfortable life of the city."
The People's Princeps but Enemy of the Senate
On October 22, AD 180 the young Princeps Commodus returned to Rome in an enormous triumphal procession. Backed by most of the Danubian legions, Commodus' entry into the city not only confirmed his authority but ushered in new hope for an era of peace and prosperity in a city that was weary of war. The victorious legions, having secured peace along the Danube (at least temporarily, and there were still to be various issues of settlement such as the Buri in Dacia), and the youthful, energetic son of the great Marcus Aurelius were symbolic of this new hope.
Commodus' popularity with the masses can be attested through several generous monetary gifts bestowed upon them as well as his well documented involvement with the games. In addition, Commodus was content to allow his Praetorian Prefects (first Perennis and followed by Cleander) to essentially administer the empire while he indulged himself in more entertaining pursuits (until his later reign when the Prefecture seems to have held less sway after previous failings). While such methods of imperial rule may seem to be unpopular on the surface, the average Roman citizen would have little to no knowledge of the inner workings of government and Commodus' general dismissal of such affairs would have little impact on his popularity. In fact, this very delegation of command especially in military affairs may have also aided his popularity with the legions. As the soldiers were well aware whose face was on the coinage, they knew that their ultimate benefactor was Commodus, but they were also aware (likely through their officers) that it was the praetorian prefects who were running military affairs. When things went bad, it was these prefects who took the brunt of criticism. In fact, Perennis eventually met his death as a result of a legionary revolt in Britain and the political ramifications that followed it.
While Commodus maintained popular support at least in his earlier reign, such popularity came at the cost of Senatorial and upper class hostility. Dio Cassius, who became a Senator during the reign of Commodus and claims to have been an eye-witness to some of the emperor's excessiveness, suggests that much of Commodus' costly endeavors were financed through the extra taxation of these classes. Coupled with the proscriptions and property confiscations against these same leading aristocrats, Commodus earned the hatred of his peers, though such later measures were possibly affected by an early conspiracy involving Commodus' own family. The new emperor had only recently arrived in Rome from the Danubian frontier before a plot against his life had been hatched.
In AD 182, an assassination attempt engineered by Commodus' sister Annia Lucilla and a cousin, (former consul) Marcus Ummidius Quadratus may have been the result of a dynastic dispute. Lucilla's husband Tiberius Claudius Pompeianus, a respected general under Marcus Aurelius during the Germanic Wars had possibly been previously considered as a potential heir following the death of Lucius Verus in AD 169. Lucilla, who had been married to Verus was quickly married to Pompeianus after her first husband's death, therefore fueling this speculation (though it is more likely that Aurelius simply saw Pompeianus as a supporter who was to be rewarded for loyalty). In the plot against Commodus Lucilla (who despised the provincial equestrian station of her second husband) probably wished a return to her status as Augusta that she enjoyed while married to Verus and therefore, Pompeianus had been selected as an imperial replacement. It was his own nephew (who was engaged to a daughter of Lucilla and Verus) who drew the dagger to attack the emperor. However, the assassin was overpowered and several conspirators (including members of the Senate) were put to death. Lucilla and Commodus' wife Crispina were exiled to the island of Capri (though Crispina seems to have been exiled for adultery and the timing was just coincidental), but Lucilla was executed a short time thereafter. Pompeianus himself seemed to have been completely unaware and uninvolved in the plot, judging by the fact that Commodus left him unharmed when the great numbers of others who met cruel fates during his reign are considered.
Perhaps this plot, along with rumors that Commodus was the son of a gladiator rather than of Marcus Aurelius, (the Historia Augusta is noted for its dubious authenticity, and the rumor may have actually developed much later considering Commodus' escapades in the Arena) may have pushed the young emperor along a road which associated him closely with Hercules. As the Olympian hero had already been a symbol of the reigns of Commodus' preceding Antonine emperors (among other thing Hercules represented a champion of civic duties to the Romans and was an appropriate fit for the civic minded Antoninus and Marcus Aurelius) he was adopted by Commodus as well perhaps to prove his lineage. However, the symbolism under Commodus would be grossly different than it had been previously portrayed.
Commodus - The Gladiator Emperor
Commodus' association with the god Hercules was never more apparent than with his exploits in the arena. In order to perpetuate his image as a living god to the Roman people, Commodus not only began to attire himself in the same manner as the mythical hero (lions skins and carrying a club), but he used the arena to show his physical prowess, therefore proving his direct association with the god. Commodus became Hercules for all intents and purposes, not only in identification with the great heroic icon, but as the symbolic protector of Rome and the empire. This identification was not just a symptom of his megalomania, but was certainly a key factor resulting in his eventual assassination as Commodus continued to challenge and disrupt Roman institutions and traditions.
Whether Commodus simply delighted in the rush of a cheering crowd, enjoyed the thrill of individual combat, aspired to become Hercules on earth or some combination thereof, we can never be completely sure. Whatever his motivation, it is quite clear that the emperor was a regular participant in the arena against both man and beast. According to the ancient sources at various times Commodus killed one hundred bears, two elephants, five hippopotami and a giraffe among many others. Herodian similarly adds additional kills and differing methods of combat to illustrate the emperor's actual skill with weapons. Commodus also faced real gladiators in combat, challenging men of several styles. In this Herodian wrote, "In his gladiatorial combats, he defeated his opponents with ease, and he did no more than wound them, since they all submitted to him, but only because they knew he was the emperor, not because he was truly a gladiator." Whether Commodus butchered his opponents (as sometimes suggested in the Historia Augusta and by Dio), or allowed them to submit with honor (as reported by Herodian) there is little question that he appeared in personal combat on many occasions. The Historia Augusta reports that Commodus engaged in gladiatorial bouts seven hundred and thirty-five times, but Dio suggests far more: "[Commodus] actually cut off the head of the Colossus (Nero's statue outside the Colosseum), and substituted for it a likeness of his own head; then, having given it a club and placed a bronze lion at its feet, so as to cause it to look like Hercules, he inscribed on it: "Champion of secutores; only left-handed fighter to conquer twelve times (as I recall the number) one thousand men."
Commodus reign was not simply an adventure in debauchery or personal excess, however. His era may have had the potential to develop into the prosperous age that Commodus so desperately wanted to be associated with. Though there were signs of economic trouble in the form of coin devaluation (reduction in precious metal content), the economy was relatively stable despite the expensive wars of his father's reign and the excessive taxes that Commodus levied against the wealthy classes (perhaps masking potential economic woes). The Germanics along the Danube frontier, thanks in large part to those wars of Marcus Aurelius, were mostly peaceful. The east was stable and quiet and only the isolated province of Britannia had shown serious signs of unrest, which was brutally suppressed by Ulpius Marcellus. Whether it was because Commodus' influential mistress Marcia was a Christian or because he had little interest in suppressing its growth, early Christian historian Eusebius claims that Commodus' reign was one of massive conversions to that rapidly growing religion.
Regardless it was not these matters that his contemporary biographers focused on. Many men of rank and importance lost their lives during this period, a clear shift from the more tolerant reigns of Commodus' immediate predecessors. Though Dio provides more detail than implied, he wrote simply, "I should render my narrative very tedious were I to give a detailed report of all the persons put to death by Commodus, of all those whom he made away with as the result of false accusations or unjustified suspicions or because of their conspicuous wealth, distinguished family, unusual learning, or some other point of excellence." As opposed to the histories of such emperors as Gaius (Caligula) and Nero, where large portions of biographical information is from second hand accounts, innuendo and perhaps greatly influenced by political factors and propaganda, Dio's biography of Commodus seems to have been written from first hand personal fear.
He also provides this telling story that illustrates the position of the aristocracy. "He [Commodus] had once got together all the men in the city who had lost their feet as the result of disease or some accident, and then, after fastening about their knees some likenesses of serpents' bodies, and giving them sponges to throw instead of stones, had killed them with blows of a club, pretending that they were giants. This fear was shared by all, by us senators as well as by the rest. And here is another thing that he did to us senators which gave us every reason to look for our death. Having killed an ostrich and cut off his head, he came up to where we were sitting, holding the head in his left hand and in his right hand raising aloft his bloody sword; and though he spoke not a word, yet he wagged his head with a grin, indicating that he would treat us in the same way. And many would indeed have perished by the sword on the spot, for laughing at him (for it was laughter rather than indignation that overcame us), if I had not chewed some laurel leaves, which I got from my garland, myself, and persuaded the others who were sitting near me to do the same, so that in the steady movement of our armies we might conceal the fact that we were laughing."
This apparent anxiety, coupled with Commodus' growing megalomania slowly brought about the end to his reign. Not only did proscription and taxation of the wealthiest citizens of Rome create distinct animosity, but Commodus view of himself as Hercules went beyond symbolism and took on the form of complete megalomania. He claimed to be a new founder of the city, renaming Rome in his own honor: Colonia Lucia Annia Commodiana. The months were renamed to match his imperial name and titles. From January through December, the twelve months became Lucius, Aelius, Aurelius, Commodus (the first four from his name), Augustus, Herculeus, Romanus, Exsuperatorius (excellent or above all others), Amazonius (an indication of his physical and combat prowess), Invictus (undefeatable), Felix (fortunate) and Pius. Nothing was beyond the boundaries of refinement and tradition, so long as Commodus could continue to illustrate his own glory. The grain fleet from Africa was named Alexandria Commodiana Togata and the legions referred to as Commodianae. As if proscription and taxation was not enough the Senate was renamed the Fortunate Senate of Commodus, certainly as a reflection of the great honor it must have been to serve him. Even the people of Rome were not left untouched and were called Commodianus rather than Romanus. In addition to several other such measures, Commodus had his era named as the Golden Age and this, according to Dio, was to be recorded in all official documentation.
Not surprisingly, Commodus was the target of several assassination attempts. However, since he enjoyed the relative popularity of the people and the loyalty of the legions and the praetorians, each was met successive failure. It was not until members of Commodus own inner circle seemingly began to feel threatened that the emperor was in any serious danger. A final plot seems to have been initiated by the Praetorian Prefect Aemilius Laetus and Eclectus, one of Commodus' servants. Probably in fear for their own lives and concerned over the emperor's growing strange behaviors, they recruited his concubine Marcia and attempted to poison him. Commodus was able to resist this subtle attempt on his life and instead the conspirators recruited an athlete, Narcissus, to take matters literally into his own hands. On December 31 AD 192, Narcissus strangled the 31 year old Commodus in his bath thus bringing an end to the rule of the Antonines and closing a definitive chapter in Roman history. After Commodus' rule of nearly 13 years, along with 125 years of largely stable rule since the death of Nero, and in spite of the efforts of the conspirators to prepare for a stable succession, the Roman world was about to enter a moment of crisis and the potential for civil war. Ironically though, despite the initial damnation of Commodus' memory by the Senate immediately following his death, Commodus would be deified by eventual successor Septimius Severus in AD 197.
Did you know...
A secret passage was recently uncovered under the Roman Colosseum, elaborately decorated with mosaics and plaster carvings, that was built to let Commodus run away from angry mobs.