Introduction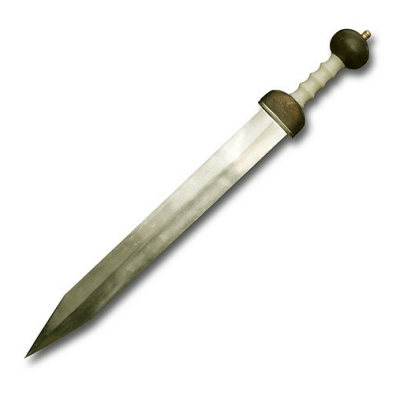 No machine-readable author provided.
,
CC BY-SA 3.0
, via Wikimedia Commons
The Roman gladius sword is one of the most iconic weapons that comes to mind when we think of a Roman legionary.
Although it varied slightly in size over the centuries, with its short blade of about 18 inches in length and 2 inches wide, this small sword was ideally suited to both cutting and thrusting. Opponent's armor - which was nearly always inferior to the armor of the soldiers of the powerful and mighty Roman empire – rarely stood a chance against the skillfully-manufactured, strong and lethally-sharp blades of the gladius.
Out of all of the weapons in the Roman army's arsenal, the gladius was the one which contributed most to the ruthless expansion and the conquering of foreign lands as the empire expanded outwards from Rome.
History of the Gladius
Like most innovations, both in ancient times and the present, new equipment and processes tend to be based on what currently exists, with the aim of keeping the best parts and improving on the weaknesses. The Romans were particularly adept at this. For example, Roman military ships were modified and improved versions of early Greek and Carthaginian vessels, their fighting capabilities enhanced by the Romans with modifications such as the Corvus for boarding vessels, rather than relying on simple ramming techniques.
The gladius sword was no different. Similar types of short swords were already in existence and used by civilizations older than the Romans. The Xiphos was a sword of a similar length that was used by the ancient Greeks, primarily as a secondary weapon once their javelin had been lost.
A similar sword was also used by Spanish mercenaries fighting for Hannibal during the Punic Wars in the latter part of the 3rd century BC. During the Second Punic War, at the Battle of Cannae in 215 BC, the Romans came up against these formidable weapons on the battlefield which, unfortunately for them, were ideal for cutting and slashing.
After being on the wrong end of these fearsome weapons, the Romans realized all too well how effective they could be in the right hands, and quickly adopted them for their own use. The famous Roman general Scipio Africanus is often attributed with making the gladius the primary weapon of the Republican legions after the Battle of Cartagena in 209 BC. The fact that it is based on the weapon used by these mercenaries from the Iberian Peninsular of Spain is one theory as to why the gladius was also referred to as the gladius hispaniensis or gladius hispanicus (the "Spanish sword").
Manufacture
Metal working and forging were skills that were well-known in the ancient world, even if the chemical processes and metallurgy were not totally understood.
Studies of Roman gladius blades that have been found have shown that they were typically made from smelting iron ore. While this would still have made a hard blade that could be made extremely sharp, what seems to set Roman blades apart is that their forging process also produced low-carbon content steel (also known as "mild steel").
Rather than being an accident, it is widely believed by historians that the Romans knew exactly what they were doing in this regard. This would have allowed the gladius to be stronger and have an even sharper edge, making it a superior weapon to those that their opponents wielded, and one which could ultimately inflict more damage to armor and bodies.
Training
Of course, having the sharpest and strongest weapon in your hand would be of little use if you didn't really know what to do with it. As such, training was vital for a roman soldier before he went into battle.
Along with all the fitness training that was required (an unfit army was no use for marching or fighting!), a Roman soldier was also trained in weapons and shield usage. These training props were typically much heavier (potentially double the weight) than the actual equipment they would use in battle, in order to build up muscle and make the real things feel much lighter and easier to use.
Unlike in some movies and TV programs where soldiers seemingly train full pelt with actual weapons and then finish unharmed, in reality this would be extremely difficult to do in any meaningful way without actually seriously injuring or even killing your training partner. Having dead or severely injured soldiers was not the way to build up an effective fighting force. As such, training took place with wooden replicas. Although they would cause a nasty bruise if you got hit with it, these blunt wooden gladius swords would not be anything like as dangerous as their metal counterparts.
Training could last around 4 months before a new recruit would even be considered for a battlefield. This was because the strength of a Roman legionary unit depended on each individual working together in formation. Having soldiers who didn't know what to do would result in gaps and weaknesses in the lines that could be exploited by the enemy and put the whole unit at risk.
That being said, gladius training was not just limited to newcomers. Just like professional sportspeople today, training and practice is vital no matter how experienced you are. The same was true of soldiers; even experienced veterans would practice their skills, particularly if it had been a while since they had seen action for real.
Usage
As mentioned at the top of this page, the gladius was a relatively short sword of approximately 18 inches in length. It was therefore used in a very different way than swords of, say, the Middle Ages where knights in suits of armor would wield weapons of a few feet in length in a swordfight.
The gladius was designed and used primarily as a stabbing weapon. Ideally, the Roman line would hold firm with shields together, providing a great deal of protection for all of the men at the front, who would then advance on the enemy and thrust their gladius upwards into the ribcage area of the adversary directly in front of them. Fighting in such close-knit formation was a primary reason for why new recruits needed to know exactly what was expected of them and could understand each sound of the horn to change tactical formation.
Of course, this was the ideal scenario, but battles tended to descend into much less neat situations. This is why the gladius was also designed as a cutting weapon, and legionaries practiced so much at one-to-one combat using their shield. Quite often in a battle the nice defensive shield line would be broken in the melee of fighting, and there came the need for one-to-one close quarter combat, even if it was just for a short period before the line could be re-assembled. Using the shield to repel an enemy's blows while using the gladius to stab and slash was a brutal yet effective fighting technique.
Having the better weapons, stronger armor, more effective training and greater discipline, all combined to prove far too much for pretty much every enemy that stood in the way of the Roman army.
---
Recommended Book:
Related Page: