Reviewed By: Gordon Doherty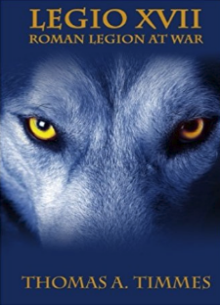 It took me a long time to get round to reading this, and, in short, I'm kicking myself I didn't do it sooner. So, I hope this review whets the appetite for anyone who has this volume on their TBR list!
Legio XVII: Roman Legion at War is unusual and unique in its style in that it is written from a distant third person point of view. In ways it reminded me of the style employed in the colourful and thrilling 'docudramas' of the History Channel. But the unique part comes with Timmes' ability to shed that distant perspective and swoop down like an eagle and perch close to - almost upon the shoulder of - the protagonists in moments of extreme stress or emotion. And there were plenty such moments...
The story follows the soldier, Manius Tullus, through the second Punic War, a time when the Italian peninsula was occupied for 14 years by the mighty Hannibal Barca. It could be said that it was during that time the unshakeable confidence of the (later) Roman Empire emerged: cities and entire vassal peoples on Italian were defecting to the seemingly unbeatable Carthaginian general, and battle after battle delivered defeat after defeat to Rome's Republican legions - yet still the Republic of Rome held firm.
The book opens with an in-depth prologue, set in the near-present day, which describes the discovery of hidden scrolls following an earthquake in Israel. The archaeologists determine that these scrolls were written by a young Jewish man by the name of Joseph who served with (and was perhaps mentored by) Manius, and that they chronicled the Second Punic War from Joseph's point of view, charting soldier's eye level details of the proceedings. Now these scrolls and their contents are entirely fictional, but plausible nonetheless, and it is here that the story leaps back in time (where it remains) to follow Manius and Joseph's adventures.
Things begin in media res with our hero, Manius, clinging onto life amidst the dead on the crimson fields of Cannae - probably Rome's most famous reverse against Hannibal's forces. The imagery here is visceral and hooked me quickly. With Manius rescued from the dead and nursed back to health, the author then takes us back in time for a while - on a journey through Manius' early years as a soldier, his rise through the ranks, then to the disaster at Cannae itself. But it is what happens after Cannae that is - in my opinion - the making of the protagonist. Cannae has hardened him and robbed him of any naivete. With a sharp eye for the finest details that can affect the outcome of a battle, he finds himself leading a vital 30-month campaign to quell the unrest in northern Italy - where many tribes threaten to roam southwards in support of Hannibal or simply make war against Rome themselves. Manius' adventures are absolutely packed with nuggets of battlefield nous and campaign strategy. As the author's note and the narrative itself show, Mr Timmes - a decorated and celebrated veteran - is clearly a master of this field. And I found it most interesting when the author indicated in places where the heroes, in the moments, days or even years after battle, might have suffered psychological phenomena, such as PTSD and Survivor Guilt, which we - ignorantly, in my opinion - consider as purely modern afflictions.
I've read a few reviews of this work and noticed that one of the criticisms levelled at this story is its use of modern terminology. Indeed, Mr Timmes does use terms such as 0600 hours, yards, minutes and more and with great frequency. Now I can only give my own opinion on this approach - which is that I found it a little jarring at first, but then extremely helpful later on, especially when the complex tactical manoeuvres were stacked so closely together that vague terms such as 'late morning' etc, or historically-correct Roman times such as 'The Seventh Hour' would have been either insufficient or would have got in the way of the story's flow. Concisely, I think the author has chosen wisely here, offering accessibility at the slight sacrifice of authenticity.
As the book progresses, Manius' adventures take him far from home, into modern-day Austria and to the edge of disaster. We have ambushes, tense night raids, shrewd deceptions, colossal battles and welcome dashes of wry humour from time to time. There are also elements of interesting and convincingly-portrayed speculation over inventions such as proto-stirrups and Gallic ballistae. All these ingredients comes together strongly as the Second Punic War reaches its climax and Manius faces his destiny against the tribes of the north.
This is a unique read deserving of recognition both for the highly-enjoyable fiction and the hard work put into mining the facts which support it. All I can say is read it and see for yourself.
---
About the Author
Thomas A. Timmes is the author of the Legio XVII series. His fourth book, Legio XVII: The Eagle Strikes, was released in July 2016. Tom earned military and civilian awards including the Medal for Exceptional Civilian Service, the Defense Superior Service Medal, Combat Infantryman`s Badge, holds a Master`s Degree in History, and is a member of the National History Honor Society.
About the Reviewer
Gordon Doherty is a Scottish writer, addicted to reading and writing historical fiction. His love of history was piqued during spells living and working close to both Hadrian's Wall and the Antonine Wall, sites of rich history winding back through thousands of years. The later Roman Empire and Byzantium hold a particular fascination for him. There is something quite special about the metamorphosis from late antiquity into the 'dark ages' and the medieval period.