Reviewed By: Guy S.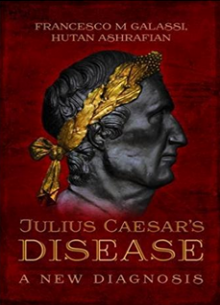 The book Julius Caesar's Disease: A New Diagnosis is an interesting examination of Caesar's health. The emphasis of this book is a reassessment of Caesar's alleged epilepsy. In the preface of the book the authors state, "Discussing health conditions and illnesses of famous characters from a bygone age may indeed be considered a daunting prospect and the advantages stemming from it could be questioned."
The authors are certainly qualified to meet the challenge. Both have studied classical history and both are medically qualified to investigate Caesar's health. Francesco Galassi is a paleopathologist with an interest in diseases of the Ancient World. Hutan Ashrafian is a surgeon and respected Egyptologist. These authors combine both their medical knowledge with their classical scholarship to challenge Caesar's long-accepted diagnosis of epilepsy.
Plutarch wrote (more than a century after Caesar's death) the following description of Julius Caesar: "[Caesar] was of spare habit, had a soft and white skin, suffered from distemper in the head, and was subject to epileptic fits, a trouble which first attacked him, we are told, in Corduba." The authors discuss this quote by Plutarch as well as several other historical descriptions of Caesar and his health. They do not, however, accept the diagnosis of "epileptic fits."
The authors examine the historical context of the information about Caesar's medical health. They also take into account Caesar's family history (Related Page: Surnames of the Julii) of sudden and unexpected death. With this background of research, they use their modern medical knowledge to present an extensive differential diagnosis for Caesar's "distemper in the head."
Galassi and Ashrafian explore extensively the possible etiology of Caesar's illness. Some of the potential origins discussed for Caesar's health problems include primary epilepsy as well as other causes of secondary seizures: head trauma, syphilis, neurocystercosis, granulomatous infection, and even a brain tumor.
Using their medical knowledge and expertise, they examine the several possible reasons for Caesar's poor health, hoping to explain his many symptoms which included "faints, dizziness, psychomotor changes, headache, nightmares, choleric outbursts, etc." They conclude that the reasons previously attributed to his poor health are less likely than their recently proposed diagnosis-cerebrovascular disease complicated by transient ischemic attacks or TIAs (commonly called ministrokes).
The authors explain that "TIAs occur when arteries of the cerebral circulation become occluded, thus oxygen delivery to neurons is suspended, resulting in focal neurologic deficits. Unlike [a] stroke, however, TIAs resolve more rapidly (from minutes to a maximum 24 hours) and leave less severe consequences." They conclude that it was these TIAs (and not primary epilepsy or some other pathology) that caused Caesar's "distemper in the head" and "epileptic fits." These TIAs would explain Caesar's temporary bouts of illness with its later onset and extensive symptomatology.
The authors propose that TIAs would explain the following features of Caesar's medical history. They state, "Having discarded most of the theories, we are left with one which, more logically and in a simpler way than others, would explain:
a. [Caesar's] familial background highly suggestive of cardiovascular / cerebrovascular disease (heart attack, lethal stroke);
b. all of his symptoms including the mood and personality changes of his late [life] and their milder presentation;
c. the absence of clear descriptions of typical epileptic attacks;
d. the confusion with epilepsy given a certain resemblance of symptoms, especially falls/fits."
So why has the epileptic theory been successful? The authors offer this conclusion from an earlier neurological article they had written: "Caesar and his son Octavius may have contributed to the diagnosis of epilepsy, as this was considered a 'sacred disease' so that they would have better published this disorder to better fit with Caesar's public profile." It is, therefore, possible that Caesar and later Octavius turned Caesar's history of TIAs with its debilitating effects from a potential political liability into a political advantage by associating his symptoms to epilepsy.
Many might consider Caesar's health not worthy of further study. Obviously, there is no opportunity to examine Caesar's corpse since his body was probably burned. (This was reported by Suetonius and was part of Ancient Roman tradition.) This study can, nevertheless, lead to an interesting review of the many historical sources concerning Caesar's life.
Although this book may appear to have a narrow focus (Caesar's health), I would recommend it to anyone with an interest in Julius Caesar or to anyone with a background in medicine with an interest in Ancient Rome.
---
About the Authors
Francesco Maria Galassi, MD, is a paleopathologist at Zurich University's Institute of Evolutionary Medicine, where he serves as Assistant and Principal Investigator of the Italian Paleopathology Project. He graduated from the University of Bologna and has collected research experiences at the University of Oxford and Imperial College London. Besides studying osteological remains and mummies, he specialises in the analysis of ancient texts in order to identify the historical presentation and evolution of diseases throughout history. Amongst his most acclaimed studies, the causes of death of Alaric I and Giovanni Boccaccio. Aged only 27, Francesco Galassi is one of the youngest palaeopathologists in the world and already an expert in the field of palaeomedicine. Francesco's studies have received worldwide attention in quality papers such Forbes Magazine, The Guardian, The Telegraph and he regularly features in the press and radio-TV programs as commentator of paleopathological research.
Hutan Ashrafian, BSc Hons, MBBS, MBA, PhD, MRCS is a surgeon, historian, systems biologist, biostatistician, paleopathologist and philosopher. He is currently lecturer in surgery at Imperial College London and surgeon registrar at Chelsea and Westminster Hospital in London. His historical and paleopathological work spans the era of Alexander the Great and the classical world, epistemology and the earliest world literature from the Ancient Near East, art and science in the renaissance focusing on the work of Leonardo da Vinci. As an Egyptologist, he has offered the first pathological analysis of the Great Sphinx and his analysis of the death of Tutankhamun was featured in documentaries on the BBC and the Smithsonian Channel. He is the founding president of the Institute of Polymaths.