Basic Legionary Equipment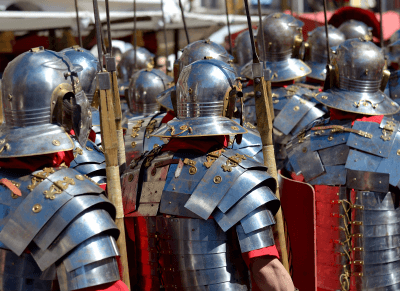 On the march the Legionary could carry between three and fourteen day's worth of rations, a saw, a wicker basket, a piece of rope or leather, a shovel, a waterskin, a sickle and a pickaxe. Each of these items, aside from the pickaxe which was worn on the belt, was carried on a forked pole introduced by Gaius Marius called the pila muralia, which earned his men the nickname Marius' Mules.
There is some discrepancy over what was actually carried and the possible total weight. At times, some items may have been transported in wagon trains or on mules such as the legionaries' tents and millstones for grinding the corn rations. It has been estimated that a legionary could carry anywhere from 66 lbs. (30 kgs) to over 100 lbs. (45 kgs) of gear and weapons, with Roman armor and shields being particularly heavy.
Body Armor
Weapons
Centurion Equipment
A centurion's equipment was notably different from that of a legionary. He wore a transverse, side to side, crest along his helmet that would serve as an easily recognized point of reference for the men. The crest was made either of feathers or horsehair and colors could signify various ranks. Rather than the Lorica Segmentata of the Legionary, they would wear either chain or scale. It was generally about waist length with a lower edge similar to the muscled cuirass. The armor and helmet could be silver-plated as well. He did not wear the apron like the Legionary but had a double-pleated kilt like piece. They also wore a cloak, of fine material, which hung from the left shoulder and a very ornate belt.
Additionally the wearing of bronze greaves on the shins set them apart from the rank and file. They generally wore their swords on the left and daggers on the right, opposite of the common soldiers. They carried a Vitis, vine staff, in his right hand as a symbol of his rank. It was made of grapevine and about 3 feet long.
Officer Equipment
Officers could, of course, dress very differently from anyone else and there seems to be set pattern to the styles. They did have very fine dyed cloaks of various colors to signify rank. They generally wore a muscled cuirass and used a parazonium instead of a gladius; both described below.
Did you know...
The equipment to the legionaries was remarkably uniform throughout the empire and it is possible that there were large centres in Gaul and North Italy for the mass manufacture of helmets, armor and weapons.
Sections